Vic Verma
Founder and Board Member
Vic established Alpha Insulation & Waterproofing in 1982 in San Antonio, TX. Prior to that, Vic was President of Alamo Insulation Co. from 1977 to 1982. In 2017, after the acquisition of Alpha by Installed Building Products ("IBP"), he was elected to the Board of Directors of IBP. Vic currently serves on the board of National Association of Minority Contractors.  Over the years, he has been actively involved with various trade organizations and non-profits, including the Georgia Walls & Ceilings Association, Associated Builders and Contractors, India American Cultural Association and Boys and Girls Club of Atlanta. Vic has over four decades of experience in commercial and specialty construction and has served on advisory boards for Bank of North Georgia, Owens Corning & Johns Manville. He has a Bachelor's degree in Engineering and Associate's Degree in International Marketing and Marketing Management from the University of Bombay. Vic is a graduate of Leadership Atlanta, class of 2005.
Brad A. Wheeler
Regional President
Brad has been an IBP Regional President since January 2015. He joined the Company in 2010 as Regional Manager and was responsible for the management of operations in several states. Since joining IBP, Mr. Wheeler has been responsible for the management of operations in several states, including Colorado, Texas, Florida and Georgia. As of 2022, he took over the Regional President responsibilities of Alpha Insulation and Waterproofing.
Prior to joining us, Mr. Wheeler was a District and Branch Manager for Masco Contractor Services, an installer of building products, from 2001 to 2010. From 1996 to 2001, he held various positions at Cary Corporation, which was purchased by Masco Contractor Services. He attended Radford University and has been an active member of Vistage International CEO Organization since 2011.
Scott Lyons
Chief Financial Officer
Scott Lyons, CPA has over 15 years of experience in the construction industry.  Scott joined Alpha Insulation and Waterproofing in April 2018 as Chief Financial Officer.  He is a graduate of Indiana University where he received a Bachelor of Science in Accounting.  Scott started his career with PricewaterhouseCoopers and then Crowe Horwath.  He joined the Installed Building Products family (IBP) in 2002 as Assistant Controller and was promoted to Corporate Controller in 2004, then Chief Accounting Officer in 2010.  Scott played a critical role in IBP's initial public offering in February 2014 before being named Managing Director of Business Development for IBP, where he led the team through over 40 acquisitions during his tenure.
Naren Patel
Vice President East Region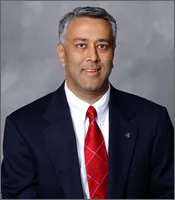 Naren joined the Alpha team in April 1999 and is the Southeast Regional Manager. Prior to joining Alpha, Naren started his career with a prominent international construction management and design firm. He has over 18 years of industry experience and currently oversees the sales and general operations of the Charlotte, Raleigh, Tampa, Miami, Atlanta and Orlando offices. In addition, he serves as the current president of the Georgia Walls & Ceiling Industry Association as well as involvement in various local organizations such as Associated Builders & Contractors of Georgia. Naren is a graduate of the University of Florida with a Bachelor's degree in Engineering.
Chuck Jahant
Vice President West Region
Chuck joined Alpha Insulation and Waterproofing in September, 2005 as the Division Manager at the Dallas office.  He was promoted to the Texas Regional Sales Manager in 2008 and Vice President of the South Central Region in 2014. Before joining Alpha, Chuck worked in the manufacturing side of the business for over 20 years, including over 10 years with W.R. Grace & Company in their Waterproofing, Fireproofing and Firestopping division. Chuck is a graduate of Baylor University where he majored in marketing/management. Chuck oversees sales and operations for Austin, Dallas, Tulsa, Denver and Phoenix.
Brian Lenix
Vice President Central Region
Brian Lenix has over a decade of experience in the construction industry. Brian joined Alpha Insulation and Waterproofing in 2011 as Regional manager for the Houston/Louisiana market. He has held a variety of sales and financial management positions in the construction market both from the manufacturing, and distribution side of the business. Prior to joining Alpha Insulation and Waterproofing, Brian worked for Owens Corning as an Area Sales Manager for their Insulating System Business. Earlier in his career, Brian was a Financial Manager for Graybar Electric and a Leader in Owens Corning's Customer Financial Services Division. Brian is a graduate of The University of Toledo where he received a Bachelor's of Business Administration Degree majoring in Finance and Information Systems. Brian oversees sales and operations for Houston, San Antonio, Nashville, Cincinnati and Milwaukee.